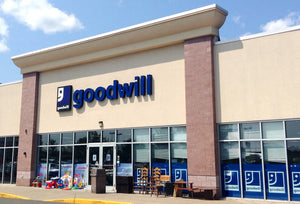 Good Will Hunting: How to Build An Awesomely Inexpensive Wardrobe from Scratch

I'm the kind of person who never thought about clothes much. Shopping seemed to be a tedious task, mirrors lie (as do shopping buddies), and, at the end of the shopping day you have less money in your pocket than when you started (which stinks in my book). Hey I have bills to pay!!!!
However...
We do live in a society where you can't just go around looking like you don't care. You may scare small children (or potential mates) away, or miss out on the perfect job, and all JUST to save some time and a few bucks. 
So...for those of you who are like me (and not) I've developed a method for:
Creating a capsule wardrobe
Within a ridiculously small budget
With no store hopping
Yes! I'm talking about shopping your local Goodwill. (And for those who are not sure what a capsule wardrobe is, click HERE.)
Now, if you have never heard of Goodwill, it's a store that sells preowned products, clothes and other items for your purchasing pleasure. It's basically a frugal person's version of a fancy consignment shop. I like it because the clothes are dirt cheap, the selections are plentiful and ever-changing, and you can basically get a whole wardrobe in one place (if you're lucky). Now here's the skinny...
 Anyone who's shopped at Goodwill knows how difficult it can be to find that perfect piece, or any piece. And for those of you who don't know, finding what you need at Goodwill, or a similar store, can be like finding the needle in the proverbial haystack. Not because it's not organized, but there is just SO much to choose from! 
This is why it helps to know exactly what you're looking for.
Now, disclaimer...
Whether you're a random shopper (someone who's wardrobe is already donned with the basic pieces and you just want to enhance it), or a newbie (someone who is starting to create a capsule wardrobe from scratch), this blog will help. However, I will point out that most of the information below is for those who are complete shopping neophytes.
And by the way, if you do feel totally lost when it comes to what to wear, keep in mind, I'm in my 30's and last year was the first time I seriously considered what was in my closet, or how I looked when I walked out of the door. Embarking on this journey that I'm about to share with you taught me a great deal, so
BE ENCOURAGED!!!
End of disclaimer. So anyway...
Getting Started
Now with any kind of hunting, you always need planning and preparation. You wouldn't go out into the woods without any gear, right?  Better still, you wouldn't go into the woods without knowing your target.
When shopping, especially at a second hand store, having a target can save a lot of time, and help you be more selective of what you purchase, because let's face it, not everything at a second hand store is that great looking or feeling.
So, here are the 4 basic steps I followed to create my Goodwill capsule wardrobe.
Step One

: Record your body measurements.
This can be accomplished:
At your local department store,

A clothier/tailor (which may or may not cost you),
Or simply by purchasing a body tape measure at a dollar store or Walmart (they have digital ones too!) and doing it yourself. (It's best if you have a friend to help though- for those "hard to reach" places LOL.)
If you decide to measure yourself at home, below are two charts that will help you record your findings. Depending upon where you are located in the world, you will jot down your measurements in centimeters or inches. The charts below are from Fashionary.org. For larger printable versions, click HERE to visit Fashionary's website.
Fashionary.org Body Measurement Chart
Step Two:

 Use your measurements to find your clothing size. 
To do this, you can use a size chart, which can be easily found online. Here's the deal with size charts:
Size charts will vary depending upon location (i.e. European sizes vs. U.S. sizes)

Size charts can also vary by store (i.e. you can be a medium according to one brand, but a large according to another). This is why I found the best size charts on sewing or fabric websites that don't sell a particular brand of clothes.
The chart below is from Colette Media- a good resource. For the larger versions, including the Men's size chart, click HERE to visit Colette Media's website.
Colette Media Women's Clothing Size Chart
Step Three:

 Determine your body shape.
This is the step many people don't do. I hadn't even thought of it until a couple of years ago. But have you ever seen the cutest, dopest outfit on the rack, only to try it on and look terrible in it? 
It probably wasn't flattering to your body shape....
Luckily there are ALOT of resources out there to help you find yours. I used the information found on the fashion blog site 40plustyle.com. Yes, I know I'm not 40 yet (almost), but the information on it applies to everyone and it's invaluable.
FYI- I found out that my body shape is an Inverted Triangle!!! Sexy! Thanks 40plus! LOL To find your body shape,
visit https://40plusstyle.com/how-to-determine-body-shape/
Step Four:

Start building your capsule wardrobe.
Now that you know your size and shape, you can begin building your capsule wardrobe. Just to recap (pun intended)...
A capsule wardrobe is a collection of a few essential items of clothing that don't go out of fashion, which serve as the base pieces for any additional clothing and or accessories. 
I'm sure everyone has heard of the little black dress or white cotton tee for women, or the black suit and pea coat for men. 
Some people adhere to the opinion that capsule pieces are all season. I believe some are and some aren't. For instance, in the spring I might buy a black turtleneck (also a capsule piece by the way) that is made of cotton, where, in the winter, I may purchase a black turtleneck that is wool or synthetic for that warm , cozy, itchy feeling. 
However, a white cotton tank top undergarment (also a capsule piece) is good for all seasons. 
Make sense...?
I hope so, but in case not, I've organized some capsule pieces just for you to see! Click on any image below to check out Niched Store's capsule collections.
Women's White
Button-Up Blouse

Men's 3-piece Suit
If you don't feel like leaving your house to hunt, did we mention you can also shop from the comfort of your couch?
Here's a little something to help you get started.
Happy Hunting!
---